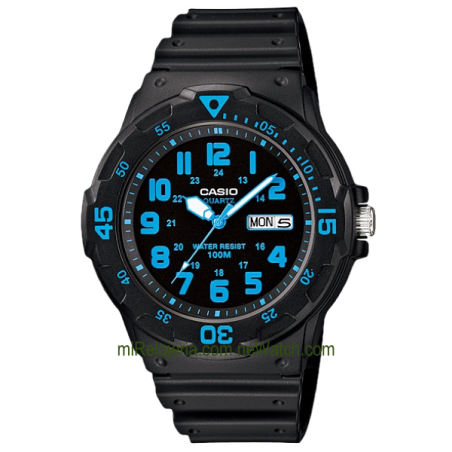  
Casio Collection Analog 100m
Quartz movement, double date feature, 100m WR, resin case and strap.

Quartz movement.
Neo-Dysplay.
Double date feature.
Rotating elapsed time bezel.
Screw Caseback.
3 Years - 1 Battery: The battery supplies the watch with sufficient energy for approx. 3 years.
Resin case and strap.
Warranty: 
2 years International Warranty. 
Dimensions: 
Length: 47,1 mm.
Wide: 45,1 mm. 
Height: 11,80 mm.
Dial diameter: 31,2 mm. 
Weight: 38,0 g.
Battery: YES.
Date feature. 
Case: Resin.
Resin strap.
Water proof: 100 m.

Neo-Dysplay (agujas luminosas)
Doble calendario.
Fondo atornillado.
Duración de la pila: 3 años.
Caja y correa de resina.
Garantía:
2 años de garantía Internacional.
Dimensiones:
Largo: 47,1 mm.  
Ancho: 45,1 mm. 
Grueso: 11,80 mm. 
Diámetro cristal Ø: 31,2 mm. 
Peso: 38,0 g.
Maquinaria CON pila.
Calendario.
Caja Resina.
Pulsera Resina.
Sumergible 100 m.
eKomi Reviews
Sin opiniones de momento
16 other products in the same category: