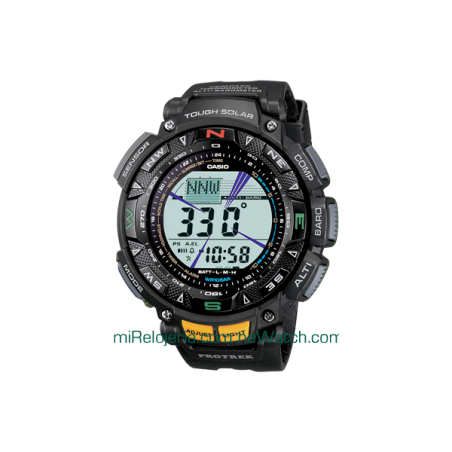  
Pro Trek New Triple Sensor Tough Solar
Light. Solar powered. Digital compass. Altimeter. Barometer. Thermometer. Stopwatch. Alarm. Low-temperature resistant. Calendar. 

Electro-luminescent backlight 
Auto light switch, afterglow. 
Solar powered. 
Digital compass: 
Measures and displays direction as one of 16 points. 
Measuring range: 0 to 359°. 
Measuring unit: 1°. 
Abnormal magnetic field detect function. 
Bidirectional calibration and northerly calibration function. 
Altimeter: 
Measuring range: -700 to 10,000 m (-2,300 to 32,800 ft). 
Measuring unit: 5 m (20 ft). 
Auto memory measurements. 
(up to 50 sets of data, each set including altitude, month, date, time). 
Reference altitude setting. 
Altitude alarm. 
Changeover between meters(m) and feet(ft). 
Barometer: 
Display range: 260 to 1,100 hPa/mb (7.65 to 32.45 inHg). 
Display unit: 1 hPa/mb (0.05 inHg). 
Atmospheric pressure tendency graph. 
Changeover between hPa and inHg . 
Thermometer: 
Display range: -10 to 60°C(14 to 140°F). 
Display unit: 0.1°C(0.2°F ). 
Changeover between Celsius (°C) and Fahrenheit (°F). 
1/100-second stopwatch. 
Measuring capacity: 59'59.99". 
Measuring modes: Elapsed time, split time, 1st-2nd place times 
Daily alarms 5 independent daily alarms. 
Low-temperature resistant(-10°C/14°F) 
Full auto Calendar. 
Direction bezel. 
Resin Case and Band. 
Battery: Approx. 1,5 years. 
Dimensions: 
Wide: 57,3 mm. 
Length: 50,9 mm. 
Height: 15,3 mm. 
Weight: 65,40 g. 
Warranty: 2 years.
Light.
Alarm.
Stopwatch.
Calendar.
Battery: YES.
Resin case.
Resin band.
Water proof: 100m.
eKomi Reviews
Sin opiniones de momento
16 other products in the same category: