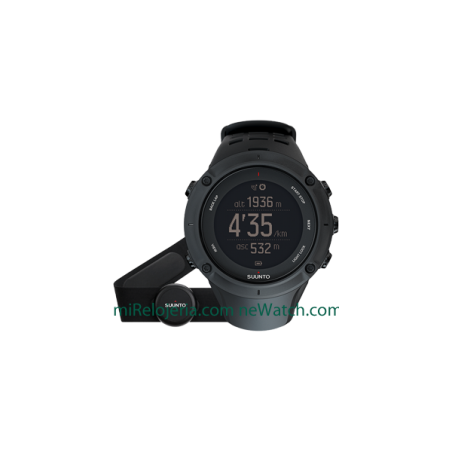  
Ambit3 Peak Black HR
GPS watch with heart rate monitoring option, altimeter, weather functions and NOW mobile connection

OUTDOOR FUNCTIONS:
 
GPS
Full-featured GPS (SiRFIV v2.2)
Adjustable GPS fix rate (1 s, 60 s)
Location in multiple coordinate systems
Waypoint and route navigation
Find back
Track logging, viewing and sharing*
Point of Interest (POI) creation
Route planning*
CONNECTIVITY
Watch customization: Wireless / USB cable
Compatible with Suunto Movescount App 
iPhone push notifications on watch 
iPhone as secondary display of watch 
Create and share Suunto Movies from your Moves with Suunto Movescount App
Photos with watch data overlays with Suunto Movescount App
Data transfer: Wireless / USB cable
Connectivity (between devices): Bluetooth Smart
Compatible with Movescount
ALTIMETER
Barometric altitude
GPS corrected barometric altitude (FusedAlti™)
Total ascent/descent
Vertical speed
Altitude graph

WEATHER
Barometric pressure and graph
Temperature
Sunriset/sunset (Suunto App)
Storm alarm (Suunto App)
Tide information (Suunto App)
* in Movescount.com
TRAINING & SPORTS-SPECIFIC FUNCTIONS:
 
TRAINING
GPS-based speed, pace and distance
Real-time, average and max. heart rate ♥
Calories ♥
Heart rate limits ♥
Heart rate graph in real time ♥
Peak Training Effect & Recovery Time ♥
Manual & autolaps
Chrono
Countdown timer
Interval timer
GPS track analysis*
Heart rate zones* ♥
EPOC & V02 max values* ♥

MULTISPORTS
Swapping of sport while logging and exercise
Preconfigured multisport modes
Sports comparison*
Post-analysis of multisport exercise by sport*
Interactive map and charts by sport/section of an exercise*
RUNNING
Responsive running pace/speed (FusedSpeed™)
Running cadence with Foot POD
Lap comparisons by each kilometer/mile*
Ghost Runner (Suunto App)
Marathon End-time Estimator (Suunto App)
SWIMMING
Swimming time by pool length, lap, total
Swimming pace & distance
Swimming stroke rate, count & type
Automatic intervals
Dynamic lap table with strokes, pace and durations*

SUUNTO APPS
1000+ free Suunto Apps for outdoors & training
Up to 50 Apps pre-configurable in watch
Logging of all App values for post-analysis
Suunto Apps creation with:

Chrono, GPS, HR, weather and altitude data ♥
Running, cycling, swimming data
Rich math functions, if/then logic, sound, backlight, etc.
* in Movescount.com
♥ requires use of optional Suunto Smart Sensor INCLUDED


GENERAL:
Time, date, alarm, dual time
Multiple UI languages (EN, DE, ES, FI, FR, IT, NL, PT, SV)
GPS timekeeping
Positive / negative display switch
User-adjustable backlight
Versatile button lock
Low battery indicator
Metric and imperial units
Power save modes
Adjustable recording of HR and baro/alti (1 s, 10 s)
Data transfer and charging with USB cable
Watch settings & customization*
Advanced post-analysis of exercise*
Training logbook with story and image support*
New functionalities with software upgrades*
* in Movescount.com
Resin case and elastomer strap. 
Mineral glass. 
Dimensions: For MEN. 
Wide: 50 mm - 1,97"
Length: 50 mm.  - 1,97"
Height: 17,5 mm - 0,69 "
Dial diameter Ø: 39,6 mm.  - 1,56"
Weight: 892 g / 3.14 oz 
Light. 
Alarm. 
Stopwatch. 
Calendar. 
Battery: YES. 
Resin case. 
Elastomer strap. 
Water proof: 100 m / 328 ft. 
eKomi Reviews
Sin opiniones de momento
6 other products in the same category: