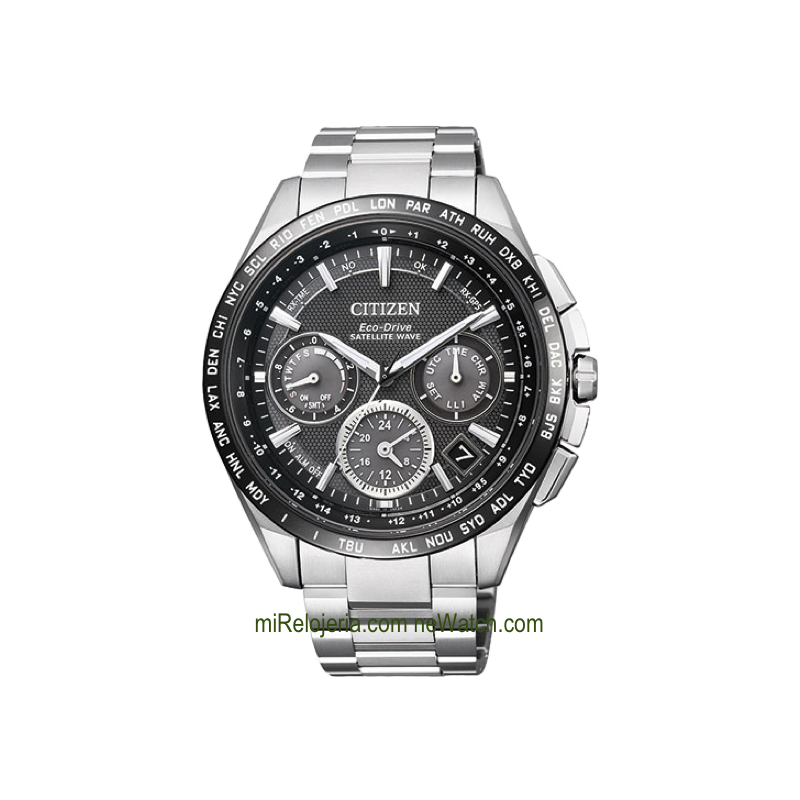  
Eco-Drive Satellite Wave F900 Chrono Alarm
Eco Drive Quartz caliber F900 satellite timekeeping movement. Charges in Sunlight or Indoors. No Batteries to Change.1,5 Years Power Reserve

Eco Drive Quartz caliber F900 satellite timekeeping movement. 
Charges in Sunlight or Indoors. No Batteries to Change. 
1,5 Yearss Power Reserve. 
Overcharging prevention function.
Over discharge detection function .
Insufficient charge warning function (two-second interval movement).
Satellite time signal reception function( manual reception 1 / manual reception 2/ circumstantial reception).
Confirming reception status (RX)
Indicating the result of the last reception (OK/NO)
Summer Time (ON/OFF) 
Date feature at 4:30 position. 
Chrono 1/20 sec
Alarm.
Dual time.
World Time for 27 Cities. 
40 time zones.
Perpetual Calendar (until February 28th, 2100) 
Antimagnetic performance/Impact detection function/Automatic hand correction function
Super Titanium DURATECT Case and bracelet. 
Sapphire glass (anti-reflective coating)
Warranty: 
1 year Citizen International Warranty. 
2 year Citizen spanish Warranty. 
Dimensions: For MEN. 
Wide: 
Length: 
Height: 
Dial diameter Ø: 
Weight: 
Date feature.
Alarm.
Chrono.
Battery: YES (rechargeable).
Case: Super Titanium DURATECT
Bracelet: Super Titanium DURATECT
Water proof: 100m.
eKomi Reviews
Sin opiniones de momento
15 other products in the same category: