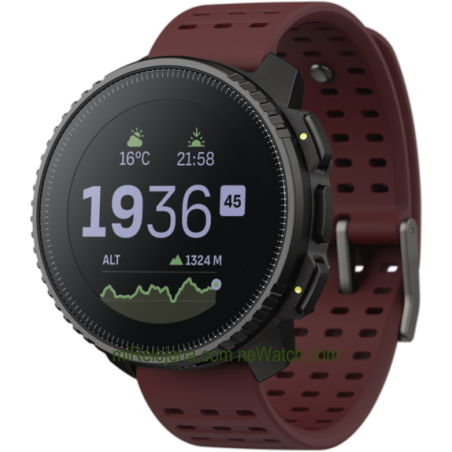  
Vertical Black Ruby
The latest from Suunto with everything you were waiting for. GPS with maps with the longest battery life. & with Finnish quality and design

Rugged adventure watch with free offline global maps for outdoor activities. Weather forecast, compass and barometer-based altitude readings, and storm alarms further help you stay aware of your surroundings when exploring, training, or racing with one of over 95 preset sport modes.
With Suunto Vertical you don't have to compromise when it comes to battery life and precision, offering the best of both. Extremely long battery life of up to 500 hours of continuous exercise tracking in tour mode and up to 60 hours in the most accurate dual-band GNSS tracking mode.
Combining functional Finnish design with the highest quality materials such as sapphire glass, stainless steel and titanium on selected models, Suunto Vertical offers you military-tested durability validated by world-class athletes.
Plan your routes in the Suunto app with specific heat maps for each sport and information on the type of road surface and navigate with offline maps on your watch. Follow training load, progress, recovery and sleep analysis in Training Zone in Suunto app and enrich your experience with additional sports apps from SuuntoPlus store. Connect to your favorite sports apps and services like Strava, Training Peaks, and Komoot to keep up with your community.
MAPS YOU CAN COUNT ON
Suunto Vertical's intuitive maps tell you all you need to know about the landscape. Contour lines, water, paths and other important landmarks are available in three different map styles. For maximum safety, all navigation features can be used in offline mode too. Never get lost exploring!
STAY SAFE IN CHALLENGING ENVIRONMENTS
With the altimeter, barometer and compass, you'll maintain spatial awareness with ease. In demanding surroundings, this can be a lifesaver. Storm alarm and up to date weather forecast help you stay out of harm's way.
THE BEST BATTERY LIFE OUT THERE
Suunto Vertical packs a battery life that's ahead of its competitors: 85 hours of exercise tracking on the most accurate GPS setting with the titanium solar variant and 60 hours with the stainless steel variant. In daily mode Suunto Vertical accompanies you up to 60 days – in the titanium solar variant even up to one year without charging!
BATTERY LIFE COMPARISON
Suunto Vertical doesn't sacrifice accuracy for longer battery life. It communicates with all five major satellite systems via Dual Frequency – an express lane for a faster, reliable signal. The battery life comparison was conducted in training mode in sunny conditions (50 000 lux) with one second logging interval.
TRAIN FOR YOUR NEXT ADVENTURES
Suunto Vertical is an excellent companion for everyday training too. From running to cycling, and swimming to cross-country-skiing, your favourite sports are sure to be found here. Still need more? Head on over to SuuntoPlus store and customise your watch even further with apps for climbing, Cooper test and more!
SUSTAINABLE DESIGN FROM FINLAND
Made in Finland where we're no strangers to harsh conditions, our manufacturing process uses 100% renewable energy.
SUUNTO APP COMPLETES YOUR WATCH EXPERIENCE
Plan, analyse and share your sports activities with Suunto App! Here, you can also connect to other services such as Strava for even more features.
COMPASS
Digital compass

Tilt compensation

Declination correction

Direction scale: degrees / mils
Needle

north indicator
Compass accuracy: 5°
Compass resolution: 1°
CONNECTIVITY
Connectivity (between devices)

Bluetooth Low Energy
Compatible with Suunto app

Phone notifications

Media controls on watch

Send predefined replies to incoming messages from watch

: Android only
Compatible with online sports communities

Phone notifications on the watch

Watch software updates from cloud

Automatic over the air software updates

Smartphone compatibility

Most common models supported
ACTIVITY TRACKING
Step counter

Calories burned

Activity targets: steps, calories
Activity history

Calorie burn rate and heart rate during daily activities

Daily minimum heart rate tracking
SLEEP TRACKING
Sleep duration

Bed times

Time awake

Deep sleep

Sleep quality
STRESS AND RECOVERY
Stress and recovery status

Daily resource level
GPS TRACKING & NAVIGATION
Satellite systems: GPS, GLONASS, GALILEO, QZSS, BEIDOU
Intelligent battery modes. Performance, Endurance, Ultra, Tour, Custom
GPS recording rate: Best, OK, Low
Waypoint and visual route navigation

Zoom levels in navigation

Auto zoom based on route shape

Breadcrumb trail in real time

Route planning with altitude profile

Outdoor terrain and satellite maps

Global heatmaps for 20 sports

Route planning with heatmaps

Personal route library synced to watch

Snap to route

Point of Interest (POI) navigation

ETA (estimated time of arrival)

GPS track analysis

Track logging, viewing and sharing

Simultaneous satellite systems: 4
Max connected satellites: 32
Outdoor maps by satellite, terrain and topography in web by Mapbox, Google Maps & Android

ETA (estimated time of arrival), remaining distance

Bearing navigation
ALTIMETER
Barometric altitude

GPS altitude

Combined GPS and barometric altitude (FusedAlti™)

Altitude in daily mode

Altitude acclimation with blood oxygen

Total ascent/descent: in exercise
Vertical speed: in exercise
Automatic alti/baro profile

Log recording rate: 1 s
Resolution: 1 m
Range: -500 - 9999 m
WEATHER
Sunrise/sunset times

Storm alarm

Sea level pressure

Automatic alti/baro profile

Temperature

Temperature display range: -20° C to +55° C / -5° F to +130° F
Temperature resolution: 1° C / 1.5° F
Pressure resolution: 1 hPa
Altitude graph shown in exercise summary
INTERVAL TRAINING
Setup intervals

Interval guidance during trainin
HEART RATE
Heart rate measured from wrist

Heart rate belt compatibility: Bluetooth Smart belts
RR interval: with Suunto Smart Heart Rate Belt & Suunto Smart Sensor
Heart rate in beats per minute

Records heart rate in swimming: yes, with Suunto Smart Heart Rate Belt & Suunto Smart Sensor
Heart rate graph in real time

Real-time average heart rate

Calories

Peak Training Effect

Recovery time

Personal heart rate zones

Fitness level (VO2max)
SPEED AND DISTANCE
Cadence based speed and distance

GPS speed and distance

Chrono

Foot POD support: Bluetooth Smart
Autolaps

Manual laps

Analysis of pace, speed graphs and tracks on the map
TRAINING RECOVERY
Training based recovery time

Recovery time daily view

Feeling stored after training to watch
TRAINING LOAD
Logbook with exercise details

Exercise summary with lap details

Training load with totals by sport

Training logbook for long term overviews
SHARE AND RELIVE
Exercise sharing to social media

Exercise rating and commenting

Follow other members and get feedback via activity stream
Bezel material: Stainless steel
Glass material: Sapphire crystal
Case material: Glass fibre reinforced polyamide
Strap material: Silicone
Integrated wrist heart rate
Customizable watch faces
Touch screen locK: during exercise
Touch display
Color display
Vibration alert
Battery type rechargeable lithium-ion
Firmware upgradable
Time, date
Alarm clock
Dual time
Automatic timekeeping
Countdown timer
Stopwatch timer
Languages: EN, CS, DA, DE, EL, ES, FI, FR, IT, JA, KO, NL, NO, PL, PT, RU, SV, TR, HE, ZH*, TH*, ZHTW*
Backlight: LED
Configurable backlight
automatic brightness
Display size: 1,4"
Display type: matrix
Display resolution: 280 x 280
Battery indicator: percentage / icon
Metric and imperial units
Blood oxygen
Automatic firmware updates over the air
Operating temperature: -20° C to +55° C / -5° F to +130° F
Storage temperature: -20° C to +55° C / -5° F to +130° F
Recommended charging temperature: 0° C to +35° C / +32° F to +95° F
Dimensions: 
Wide: 49 mm - 1,93"
Length: 49 mm - 1,93"
Height: 13,6 mm - 0,54 "
Dial diameter Ø: 44,9 mm.  - 1,77"
Weight: 86 g / 3.03 oz
Light. 
Alarm. 
Stopwatch. 
Calendar. 
Battery: YES. 
Stainless steel case. 
Silicone strap. 
Water proof: 100 m / 328 ft. (according to ISO 6425)
eKomi Reviews
Sin opiniones de momento
16 other products in the same category: