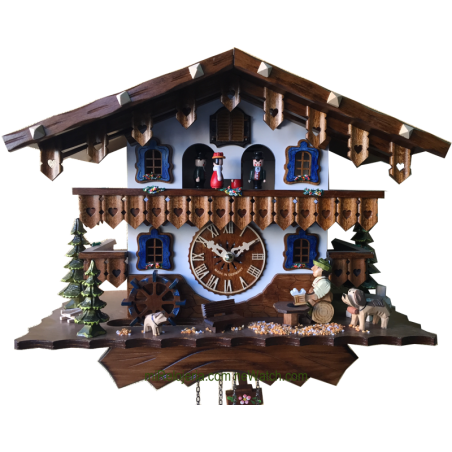  
Cuckoo Bavarian chalet with beer drinker and dancers Engstler
Original Black Forest Chalet Cuckoo Clock. Quartz movement with music

Original Black Forest Chalet Cuckoo Clock. 
Quartz movement with music (12 different melodies): Cuckoo Waltz, Bayrischer Ländler, Waterwheel in the Black Forest, The Woodchopper March, Happy Wanderer, Trink Brüderlein Trink, In München steht ein Hofbräuhaus, For Elise, Lorelei, Home Sweet Home, Clementine, Salut d'amour.
Movements: Dancers dance, beer drinker moves and turning water wheel.
Automatic Night shut-off (light sensor). 
Hand crafted. 
Original black forest cuckoo clocks. 
2 years warranty.
Dimensions:
Wide: 36,5 cm. 
Height: 29 cm. 
Depth: 20 cm. 
Battery: YES (3 x LR14).
Height: 29 cm.
Case: Wood.
eKomi Reviews
Sin opiniones de momento
16 other products in the same category: