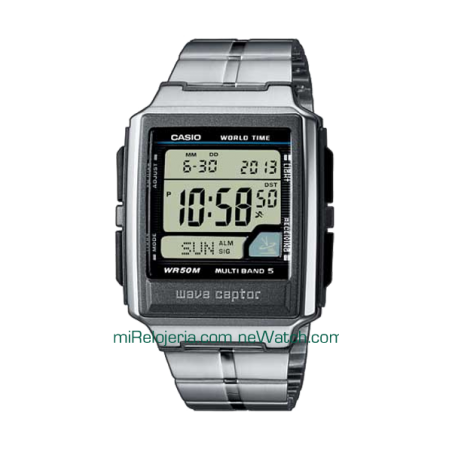  
Wave ceptor
Digital quartz movement. Day and Date display. Radio Receiver Watch. World Time. Stopwatch. Alarm. Mineral Glass.

Illuminator: An electro-luminescent panel causes the entire face to glow for easy reading. 
Radio signal receiver (EU, USA, Japan):
In Europe or North America, in many parts of Canada and Central America or Japan - once the watch has been set to the local time zone, it receives the relevant signal ensuring that it always shows the exact time. In many countries the summer and winter time is also shown automatically.
World time function:
Displays the current time in major cities and specific areas around the world.
Stopwatch function - 1/100 sec. - 1 hour:
Elapsed time, split time and final time are measured with 1/100-sec accuracy. The watch can measure times of up to 1 hour.
Timer - 1/1 min. - 1 hour:
For fans of precision: the countdown timers help you to remember specific or recurring events by giving off an audible signal at a preset time. The time can be set to the nearest minute and up to 1 hour in advance. Ideal for people who need to take medicines every day or those who do interval training.
Daily alarm:
The daily alarm reminds you of events that recur every day, by emitting an audible signal at the set time. 
Multi-language:
The name of the day can be displayed in different languages.
Button tones on/off:
The button tones for using the mode button can be turned off. This means that the watch no longer beeps when switching from one function to another. Preset alarm or countdown timers remain active when the button tones are deactivated.
Automatic calendar:
Once set, the automatic calendar always displays the correct date. 
Mineral Glass. 
Stainless Steel & resin Case and Stainless Steel bracelet. 
Screw Lock Back 
Dimensions: FOR MEN. 
Length: 48,30 mm.
Wide: 39,00 mm.
Height: 12,50 mm
Weight: 82 gr.
Warranty: 2 years.
Alarm.
Stopwatch.
Calendar.
Battery: YES.
Stainless Steel & resin case.
Stainless Steel bracelet.
Water proof: 50m.
eKomi Reviews
Sin opiniones de momento
16 other products in the same category: