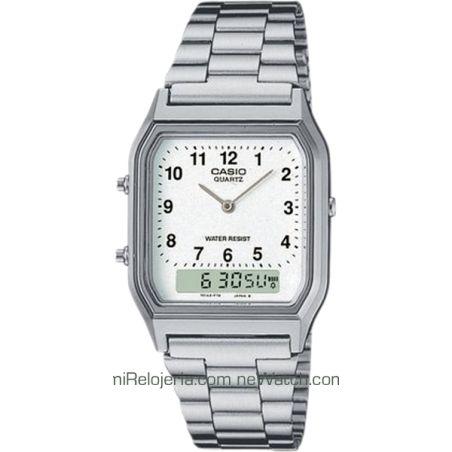  
Ana-Digi
Ana-Digi quartz movement, second time zone, stopwatch, daily alarm and calendar. Resin Case and stainless steel bracelet.

Ana-Digi quartz movement.
Second time zone: A second location time can be set and called up. Ideal if you frequently make overseas calls.
Stopwatch function - 1/100 sec. - 1 hour
Elapsed time, split time and final time are measured with 1/100-sec accuracy. The watch can measure times of up to 1 hour.
Daily alarm: The daily alarm reminds you of events that recur every day, by emitting an audible signal at the set time. 
Automatic calendar: Once set, the automatic calendar always displays the correct date.
12/24-hour timekeeping: Times can be displayed in either a 12-hour or 24-hour format.
Resin Case and stainless steel bracelet.
Battery: Approx. 3 years. 
Dimensions: 
Wide: 31,10 mm.
Length: 38,40 mm .
Height: 9,00 mm.
Weight: 44,0 gr.
Warranty: 2 years.
Alarm.
Stopwatch.
Calendar.
Battery: YES.
Resin case.
Stainless steel bracelet.
Water proof: WR.
eKomi Reviews
Sin opiniones de momento
16 other products in the same category: