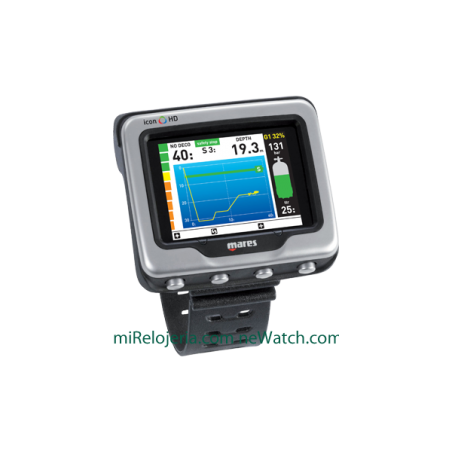  
ICON HD net ready
Icon HD net ready is the new frontier in gas integrated dive computers.

Incredible Color, High Definition Dive
•Hoseless tank pressure transmission
•Exclusive bi-directional communication
•Displays tank pressure, time remaining and current gas consumption
Icon HD net ready is the new frontier in gas integrated dive computers. Whereas until now the dive computer was simply a passive receiver of information, with the new Mares bidirectional technology, Icon HD is ready to communicate actively with the tank module for an unprecedented level of safety and user friendliness. The combination with icon's high definition color display brings tank pressure information to a new level. Detailed numerical information is accompanied by intuitive, at-a-glance color coding. Blue and green means the pressure is above the mid tank warning, red means the pressure is below the reserve, orange and yellow for values in between.
The thresholds are set by the user for maximum customization.
EAN (NITROX) from 21% to 99%
Product Details:
Max Displayed Depth: 150 m (492ft)
Memory capacity: > 100hr
Profile Sampling Rates: 5 s
Watch: Yes
Calendar: Yes
Dual time: Yes
Stopwatch: Yes
Daily alarm: Yes
Battery Power Indicator: Yes
Lithium Battery: Yes
Plan Mode: Yes
Choice of Metrical/Imperial Units: Yes
Fresh and Seawater Settings: Yes
Residual Nitrogen Reset: Yes
Option to exclude audible alarms: Yes
Exclusion of "Uncontrolled Ascent": Yes
Ascent Rate Indicator: Yes
Ascent Rate Digital Indicator (m/min - ft/min): Yes
Altitude Adjustment: Yes
Light. 
Alarm. 
Stopwatch. 
Calendar. 
Battery: YES. 
Stainless steel case. 
Elastomer strap. 
Water proof: 150m.
eKomi Reviews
Sin opiniones de momento
16 other products in the same category: