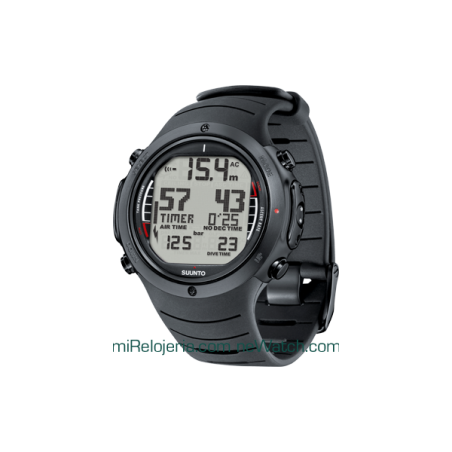  
D6i All Black
Suunto D6i is the wristop dive computer of choice for those who take their diving seriously

Suunto D6i is the wristop dive computer of choice for those who take their diving seriously. Features like the tilt-compensated 3D compass and wireless air integration make it invaluable in situations where other people rely on your diving skills. It's also easy to synch with Movescount.com, so you can log and share dive info, images, and videos with the rest of the world when you're out of the water. 
Hassle-free tank pressure monitoring
The D6i offers optional wireless air integration, so you can keep track of current cylinder pressure and remaining air time with a glance at your wrist, giving you more time to enjoy your dive. 
Innovative compass technology
Navigation is easier than ever before thanks to the tilt-compensated 3D compass, which gives you full confidence in the accuracy of the bearing, regardless of the angle of your wrist. 
Share your diving experiences with the world
Using DM4 with Movescount software on your laptop, you can easily synch your Suunto D6i with the Movescount.com online community, where you can store and share your dive data, images, and more. With Movescount, you can also share experiences on dive sites and connect with other divers from all over the world. 
Multi-mode versatility
Suunto D6i has four dive modes. The Air mode is used for diving with standard air, the Nitrox mode for one or two nitrox mixes, and the Gauge mode for use as a bottom timer. There is also a dedicated Freedive mode for breath-hold divers. With the D6i in Nitrox mode, you can accelerate decompression by switching to a gas mix with a higher oxygen percentage. You can also preset two different gas mixes (with between 21% and 99% oxygen) and set PO2 values for each individual gas. It's also quick and easy to switch between enabled gas mixes during your dive. In Gauge mode, Suunto D6i works as a bottom timer, and also provides accurate profile sampling and bookmarking functions. A dive timer with a reset function displays your dive time in minutes and seconds. This is extremely useful for timing accurate bottom times and decompression stops. If you're serious about breath-hold diving, the new Freedive mode puts all the functionality you need at your fingertips. The D6i samples depth three times a second, and gives you highly accurate data on the true depth reached. 
Plan and review
You can test upcoming dives and view no-decompression time data for different depths before getting in the water with the built-in dive planner. After your dive, you can easily transfer your dive data to your computer for further analysis using the optional Suunto DM4 software, which includes a detailed logbook featuring a graphical representation of all your dives. 
As stylish on land as it is in water
As well as being a full-featured dive computer, Suunto D6i is also a stylishly designed timepiece that looks as good in the office as does on the live-aboard. Choose from a steel bracelet or black wrist strap. 

COMPASS 
3D digital compass 
Bearing tracking 
Cardinal directions 
Declination setting 
Guided calibration 
Heading in degrees 
Tilt compensated compass 
NITROX 
CNS% + OTU calculation (OLF) 
Gas switching during dive 
Max PO2 adjustment: 0.5-1.6 
O2 % setting: Up to 2 gases containing 21-99% 
OTHER 
Adjustable backlight duration 
Backlight type: Electro-luminescent display 
Matrix display 
Menu-based user interface 
Operating temperature: 0°C - +40°C / 32°F - +104°F 
Selectable metric/imperial units 
Storage temperature: -20°C - +50°C / -4°F - +122°F 
POWER 
Battery power indicator 
Low battery warning 
SOFTWARE 
Software name: Suunto DM4 with www.movescount.com. 
USB interface cable: Included 
WATCH 
12/24h 
Calendar clock 
Daily alarms: 1 
Dual time 
DIVING 
Altitude adjustment 
Ascent rate monitor/alarm 
Ascent time display: Up to 199 min 
Audible alarm 
Compass 
Deep Stops 
Dive time in seconds and minutes: In free / gauge mode 
Full decompression data 
Log book memory 
Maximum depth alarm 
Maximum depth display: 150m / 492ft 
Operation mode Air 
Operation mode Free 
Operation mode Gauge 
Operation mode Watch 
Personal adjustment 
Profile sampling rates in seconds: 1, 2, 5, 10, 20, 30, 60 s 
Safety stop 
Suunto technical RGBM model 
Temperature display 
Wireless air integration: Optional 
Lifetime history Freedive 
Lifetime history Scuba 
CHRONOGRAPH 
Stopwatch In time / dive mode 
Stainless steel case and elastomer strap. 
Sapphire crystal glass. 
Dimensions: For MEN. 
Wide: 45 mm.
Length: 51 mm.
Height: 16 mm.
Dial diameter : 37 mm.
Weight: 121 g.
Light. 
Alarm. 
Stopwatch. 
Calendar. 
Battery: YES. 
Stainless steel case. 
Elastomer strap. 
Water proof: 150m.
eKomi Reviews
Sin opiniones de momento
16 other products in the same category: