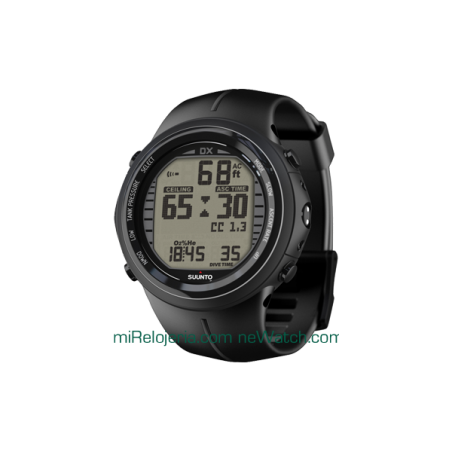  
DX Elastomer
The world's first watch-sized rebreather-compatible dive computer

Suunto, the world's leading dive computer brand with a heritage that spans over 76 years, has once again succeeded in its mission to create pioneering equipment. The Suunto DX, built on the award-winning Suunto D9tx, is the ultimate tool for open circuit and rebreather divers. It's the very first of its kind to feature CCR compatibility.
The premium design and materials, combined with the new superior Suunto Fused™ RGBM, makes it the must-have for your dive missions and everyday adventures. Are you ready to conquer new territory?
Suunto Ambassador Jill Heinerth:
"The Suunto DX is one of my support computers that go with my rebreather. It's easy to integrate it into a rebreather dive plan, or any plan for that matter – open circuit or closed circuit. It has one of the most accurate digital compasses, which I use to survey and make maps as well. It can really do anything, and it's a beautiful, wearable watch. It has everything you need in a very small package, and it handles itself well under any conditions."
For rebreather diving:
_ A setpoint, non-monitoring dive computer with dedicated CCR mode
_ Configure up to 3 different diluents
_ Adjustable high and low setpoints, as well as custom setpoint during dive
_ Automatic setpoints switching at specified depths
_ Possibility to switch to open circuit mode in case of bailout
For all diving:
_ New, advanced Suunto Fused™ RGBM for CCR, technical and recreational diving
_ Trimix support including helium and oxygen
_ Gas switching between up to 8 gases
_ 3D tilt-compensated digital compass
_ Four dive modes: CCR, air, mixed gas, gauge
_ Optional wireless air integration
_ Built-in dive planner
_ Detailed graphical logs and dive data on your computer using Suunto DM4 software
For everyday adventures:
_ Stunning, compact design
_ Hard-wearing premium materials: titanium case and scratch-resistant sapphire crystal glass
_ Optional titanium bracelet


COMPASS 
3D digital compass 
Bearing tracking 
Cardinal directions 
Declination setting 
Guided calibration 
Heading in degrees 
Tilt compensated compass 
NITROX 
CNS% + OTU calculation (OLF) 
Gas switching during dive 
Max PO2 adjustment: 0.5-1.6 
O2 % setting: Up to 8 gases, oxygen 5-99%, helium 0-95% 
OTHER 
Adjustable backlight duration 
Backlight type: Electro-luminescent display 
Matrix display 
Menu-based user interface 
Operating temperature: 0°C - +40°C / 32°F - +104°F 
Selectable metric/imperial units 
Storage temperature: -20°C - +50°C / -4°F - +122°F 
POWER 
Battery power indicator 
Low battery warning 
SOFTWARE 
Software name: Suunto DM4 with www.movescount.com. 
USB interface cable: Included 
TRIMIX 
8 gas mixes 
Helium: Up to 92% 
Oxygen: 8-99% 
WATCH 
12/24h 
Calendar clock 
Daily alarms: 1 
Dual time 
DIVING 
Altitude adjustment 
Ascent rate monitor/alarm 
Ascent time display: Up to 199 min 
Audible alarm 
Compass 
Deep Stops 
Dive time in seconds and minutes: In gauge mode 
Full decompression data 
Log book memory 
Maximum depth alarm 
Maximum depth display: 200m / 660ft 
Operation mode Air 
Operation mode Gauge 
Operation mode Watch 
Personal adjustment 
Profile sampling rates in seconds: 10, 20, 30, 60 s 
Safety stop 
Suunto technical RGBM model 
Temperature display 
Wireless air integration: Optional 
Operation mode Mixed Gas vDive planner 
Lifetime history Scuba 
CHRONOGRAPH 
Stopwatch In time / dive mode 
Titanium case and bracelet. 
Sapphire crystal glass. 
Dimensions: For MEN. 
Length:50,2 mm.
Wide: 51,3 mm. 
Height: 16,9 mm.
Dial diameter Ø: 35,6 mm.
Weight: 107 g.
Light. 
Alarm. 
Stopwatch. 
Calendar. 
Battery: YES. 
Titanium case. 
Titanium bracelet. 
Water proof: 200m.
eKomi Reviews
Sin opiniones de momento
16 other products in the same category: