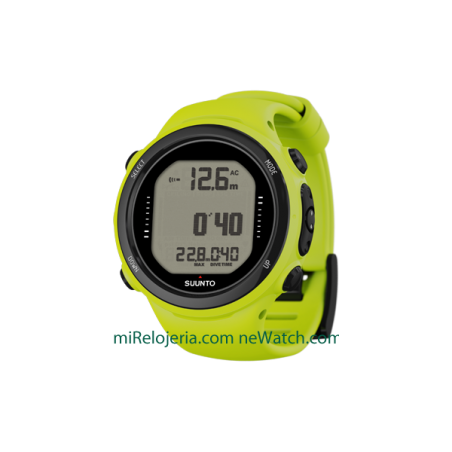  
D4i Novo Lime
A new design of an easy-to-use dive computer with freedive mode and air integration

Electro-luminescent display backlight 
Adjustable backlight duration. 
Advanced Computer Watch. 
Diving: 
Operation mode Gauge. 
Operation mode Watch. 
Safety stop. 
Temperature display. 
Consumed bottom time graph. 
Dive time in seconds in gauge mode. 
Log book memory. 
Maximum depth display: 150 m (492 ft). 
Suunto RGBM decompression model. 
Ascent time display: Up to 99 min. 
Full decompression data. 
Personal adjustement. 
Ascent rate monitor/alarm. 
Audible alarm. 
Lifetime history memory. 
Maximum depth alarm. 
Operation mode Air. 
Profile sampling rates in seconds: 1,10,20,30,60s. 
Altitude adjustment. 
Deep Stops. 
Optional wireless air integration for tank pressure information. Wireless Transmitter NOT included. 
USB interface included.
Operation mode Nitrox. 
Nitrox: 
CNS% + OTU calculation (OLF). 
Max PO2 adjustment: 0.5-1.6. 
Gas switching during dive. 
O2 % setting: Up to 2 gases containing 21-99%. 
PC Software: 
Suunto Dive Manager included. 
Selectable metric/imperial units 
Operating temperature 0°C - +40°C/32°F - +104°F 
Suuntosports.com benefits 
Storage temperature -20°C - +50°C/-4°F - +122°F 
Stopwatch. 
Count down. 
Dual Time. 
Alarm. 
Battery power indicator. 
Low battery warning. 
Stainless steel case. Rubber band. 
Mineral Glass. 
Dimensions: For MEN. 
Wide: 47,90 mm.
Length: 50,15 mm.
Height: 15,90 mm.
Dial diameter : 37,20 mm.
Weight: 92 g.
Light.
Alarm.
Stopwatch.
Calendar.
Battery: YES.
Stainless steel case.
Rubber strap.
Water proof: 100m.
eKomi Reviews
Sin opiniones de momento
16 other products in the same category: