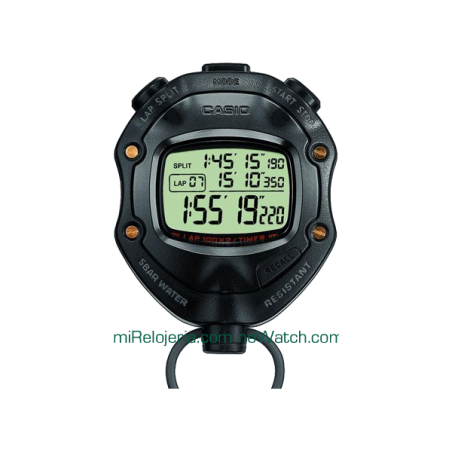  
Stopwatch Lap Memory 100
Stopwatch function - 1/1000 sec, Referee stopwatch, Lap memory 100.Timer for measuring intervals:

Stopwatch function - 1/1000 sec. - 10 hours: Measures with an accuracy of thousandth part seconds the meantime and the end time. Signals confirm the starting/stop selection. The measuring capacity reaches up to 10 hours.
Referee stopwatch: The referee function shows the current play time and the overall time which has already passed in the game, simplifying the calculation of injury time.
Lap memory 100: Measured total, lap and split times can be stored in a memory with the date and can be displayed again later. A data set consists of: date, total, lap and split times. The memory has enough space for up to 100 data sets. Some models can also store calculated distances and calories.
Timer for measuring intervals: Using this timer, up to nine individual countdown times can be defined and set to elapse in sequence.
12 daily alarms: The daily alarm reminds you of events that recur every day, by emitting an audible signal at the set time. This model has twelve independent alarms that can be used flexibly to remind you of important appointments.
Automatic calendar: Once set, the automatic calendar always displays the correct date.
5 Years - 1 Battery: The battery supplies the watch with sufficient energy for approx. five years.
Resin case
Dimensions: 
Wide: 64,00 mm. 
Length: 83,00 mm. 
Height: 24,00 mm. 
Weight: 82,00 g. 
Warranty: 2 years.
Alarm.
Stopwatch.
Calendar.
Battery: YES.
Resin case.
Water proof: 50m.
eKomi Reviews
Sin opiniones de momento
11 other products in the same category: