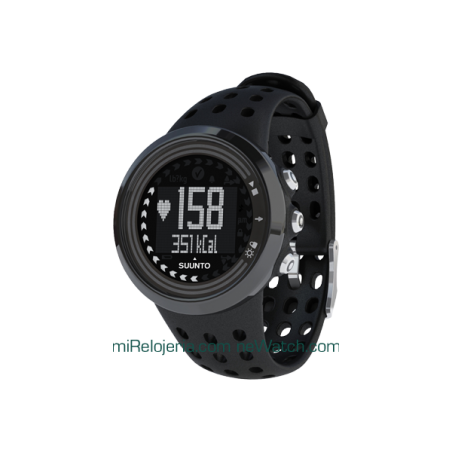  

Electro-luminescent backlight. 
Product Features: 
Fitness test 
3 personal targets to choose from improving fitness, weight management or free training 
Daily exercise instructions with ideal duration and intensity 
Automatically adapting exercise program for the next 7 days 
Real-time intensity guidance during workout 
Recovery time recommendation after exercise 
Motivational feedback messages 
Suunto Dual Comfort belt, compatible with most gym cardio equipment and Suunto Fitness Solution 
Upload exercise data to www.movescount.com. (with included Suunto Movestick)
Download any training program from www.movescount.com. (with included Suunto Movestick)
Track speed & distance with optional Foot pod, Bike pod or GPS pod
Easy to use 
9 languages: English, French, Spanish, Italian, German, Dutch, Portuguese, Swedish and Finnish
User-replaceable battery. 
Interchangeable bands 
Stopwatch. 
Alarm. 
Resin case and band. 
www.movescount.com. compatible. 
Dimensions: For MEN 
Length:43 mm. 
Wide: 45 mm. 
Dial diameter Ø: 36 mm. 
Height: 13 mm. 
Weight: 37 g. 
Warranty: 2 years. 
Light. 
Alarm. 
Stopwatch. 
Calendar. 
Battery: YES. 
Resin case. 
Resin band. 
Water proof: 30m/100 ft.
eKomi Reviews
Sin opiniones de momento
16 other products in the same category: