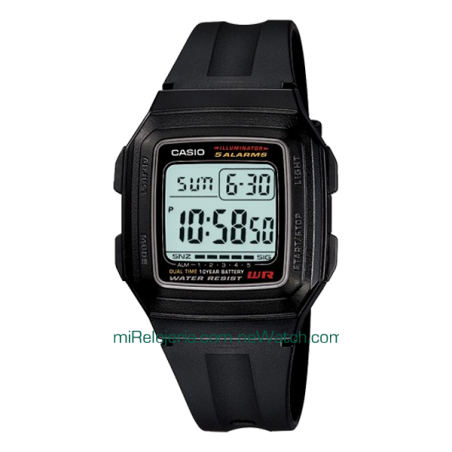  
Men's Standard 10 years
Light. Stopwatch. Alarm. Dual time Full auto Calendar. Resin case and strap.

Light. 
1/100-second stopwatch. 
Measuring capacity: (lap time) 9:59'59.99". 
Multi alarm: This model is equipped with a multifunctional alarm. One of these alarms is a snooze alarm. This clock has the perfect alarm for any type of appointment. The model is equipped with a total of four repeat alarms: 1. Daily alarm, sounds at the same time each day, 2. Date alarm, e.g. to help you remember birthdays, 3. Monthly alarm, sounds on the same day at the same time each month, 4. Alarm for every day of a particular month.
Snooze feature: Each time you stop the alarm, it sounds again after a few minutes.
Timer - 1/1 min. - 24 hours (with automatic repeat) 
For fans of precision: the countdown timers help you to remember specific or recurring events by giving off an audible signal at a preset time. They then count back automatically from the preset time. The time can be set to the nearest minute and up to 24 hours in advance. Ideal for people who need to take medicines every day or those who do interval training.
Dual time
Full auto Calendar. 
Resin case and bracelet. 
Battery: Approx. 10 years. 
Dimensions: FOR MEN. 
Wide: 41,00mm. 
Length: 49,3mm. 
Height: 10,50mm. 
Weight: 23,8 gr.
Warranty: 2 years.
Light.
Alarm.
Stopwatch.
Calendar.
Battery: YES.
Resin case.
Resin strap.
Water proof: WR.
eKomi Reviews
Sin opiniones de momento
16 other products in the same category: