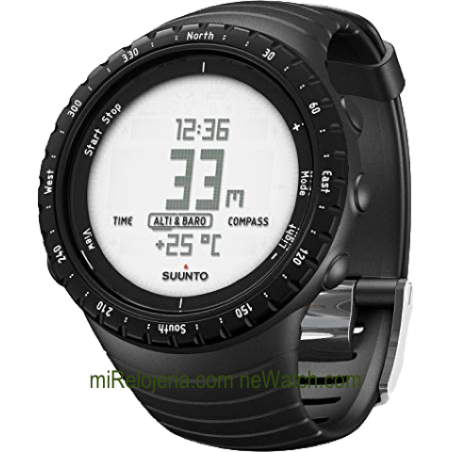  
Core Regular Black
The outdoor watch combining easy-to-use outdoor features (altimeter, barometer & compass) in a range of stylish design options.

Electro-luminescent backlight. 
Languages: 4 language menu (DE,EN,ES,FR) 
Scrolling text. 
Button lock. 
Sunrise sunset times 
Altimeter:Range: -500 / +9000 m, rsp. -1600 .. +29500 feet . Resolution : 1 m, rsp. 3 feet 
Log graph 
Total Ascent Descent 
History memory 
Altimeter/barometer lock 
Automatic Alti/Baro switch 
Logbook function 
Temperature compensation 
Difference measurement. 
Recording intervals: 1s, 5s, 30s, 60s. 
User-removable logbook files. 
Automatic 7 day Alti-Baro memory. 
Lockable logs. 
Barometer: Range: 300 - 1100 mBar, rsp. 8.90 - 32.40 inHg. 
Resolution: 1 mBar, rsp. 0.05 inHg . 
Trend indicator. 
Storm alarm 
Altimeter/barometer lock 
Weather alarm 
Weather memory: 7 days 
Weather alarm. 
Sea level pressure . 
Temperature:: Temperature range: -20 - +60°C, rsp. -5 - +140°F. 
Digital Compass: 
Heading in degrees 
Bearing tracking 
Cardinal directions 
Declination setting 
Guided calibration 
North-South arrow: North indicator 
Other: 
Depth meter. 
Rotating bezel. 
Timer. 
Stopwatch. 
Alarm Snooze. 
Low battery warning 
User replaceable battery 
Mineral crystal glass. 
Resin case and band. 
Dimensions: 
Length: 49 mm. 
Wide: 51 mm. 
Diameter crystal: 39 mm. 
Height: 14 mm. 
Weight: 69 g. 
Warranty: 2 years.
Light.
Alarm.
Stopwatch.
Calendar.
Battery: YES.
Resin case.
Resin band.
Water proof: 30m.
eKomi Reviews
Sin opiniones de momento
9 other products in the same category: